A home renovation in Vancouver offers owners a chance to re-think their space. This time is the perfect opportunity to create storage of all shapes and sizes.
If you have an older home, this can be especially important as they are notorious for have less room and awkward storage areas
. Regardless of your house's age, this is your chance to squeeze every inch of storage area out of your home.
How to add storage during your home renovation in Vancouver
1. The sleek bathroom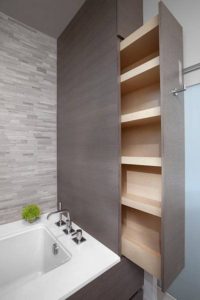 Bathrooms can
easily
get cluttered. During your home renovation in Vancouver, help hide that clutter with a tall pull-out.
Now you can have everything you need at your fingertips, while still maintaining a spa-like simplicity sure to keep you calm – morning and night
.
2. A mudroom bench
Entryways are often filled with shoes, scarves, umbrellas, and on, and on. Even with a front closet, there may not be enough room to hold it all. Make sure you have all the space you need by adding a functional mudroom bench. Added bonus: you will always have somewhere to sit as you put your shoes on!  
3. The front hall station
Like a mudroom bench, a front hall station is a great way to help prevent clutter in your entryway. Make sure you have space on this station for your keys and mail. If you want to soup it up, try adding a charging station. This provides your family with immediate access to an outlet and a USB connection as soon as they walk in the door.
4. Built-in bookcases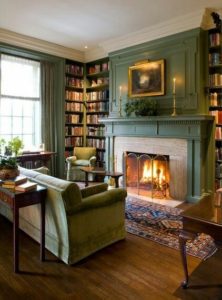 Bookcases are a classy – and classic – way to give you a chic storage option. If you are a proud bookworm, consider open shelves. If you are more of a minimalist, bookcases with doors may be more your speed.
Remember that your home renovation in Vancouver is the perfect time to get custom bookcases installed for your narrow nooks
.
5. A multi-use laundry room
For your home renovation in Vancouver, consider a vertical washer and dryer and using that saved space for an extra storage unit
.
If you are unable to do this, instead add shelves above your side-by-side washer and dryer to reclaim what storage space you can
.
6. An office nook
Do you not have any office space? Not to worry, you can always maximize your space by turning a nook into a mini-office. Include up-to-date telecommunications connections next to power outlets to keep your cords contained.
7. The under the stairs storage
Many people do not make use of the space under their stairs, but it is ideal for storage.
Fill it with shelves, cabinets, and organizational units so you can organize the space, preventing it from turning into a junk area
.
8. A room divider
Have a large room you want to break into two? Use bookcases or shelving units instead of a wall. That will allow you to maintain two smaller spaces without
fully
closing off the light. This method also has the bonus of providing your family with extra storage areas.
9. Window seats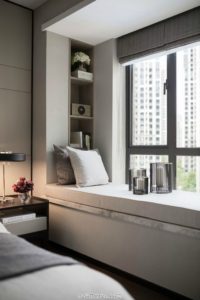 Benches in front of low windows give ideal storage for bedding, towels, and out of season clothing.
Of course, bay windows are the best for these seating units, but you can create a faux bay window by adding shelves on either side to create a deeper nook
. The nice extra here is that you also get a relaxing area to sit and enjoy the view!
The best way to add storage during your home renovation in Vancouver…
10. A converted attic
During your home renovation in Vancouver, you should take the opportunity to convert your unfinished attic
. By updating your attic, you can
easily
give yourself extra storage space. If you want to go a step further, add a little seating area, making a quiet hideaway.  
Want to add storage space during your home renovation in Vancouver?
Get in touch with us
today for your free quote.